DP0105 (NEO-M8N GPS + LIS3MDL Magnetometer for Pixhawk 3 Pro) gathers several front-end techniques (LNA + SAW) that enables high sensitivity, very short fix time and optimized tracking.
NEO-M8N provides best performance at low power consumption levels and easier RF integration. The future-proof NEO-M8N includes an internal Flash that allows future firmware updates. This makes NEO-M8N perfectly suited to industrial and automotive applications.
Designed and manufactured in France, DP0105 GPS combines a high level of robustness and integration capability with flexible connectivity options. This module allows to know very precisely the drone position and orientation thanks to its integrated LIS3MDL magnetometer.
DP0105 (NEO-M8N GPS + LIS3MDL Magnetometer) is compatible with the Pixhawk 3 Pro.
This package includes :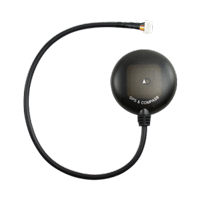 1 x DP0105 (NEO-M8N GPS + LIS3MDL Magnetometer for Pixhawk 3 Pro)